Bedroom Wall Decor Creative Ideas and Tips for Decoration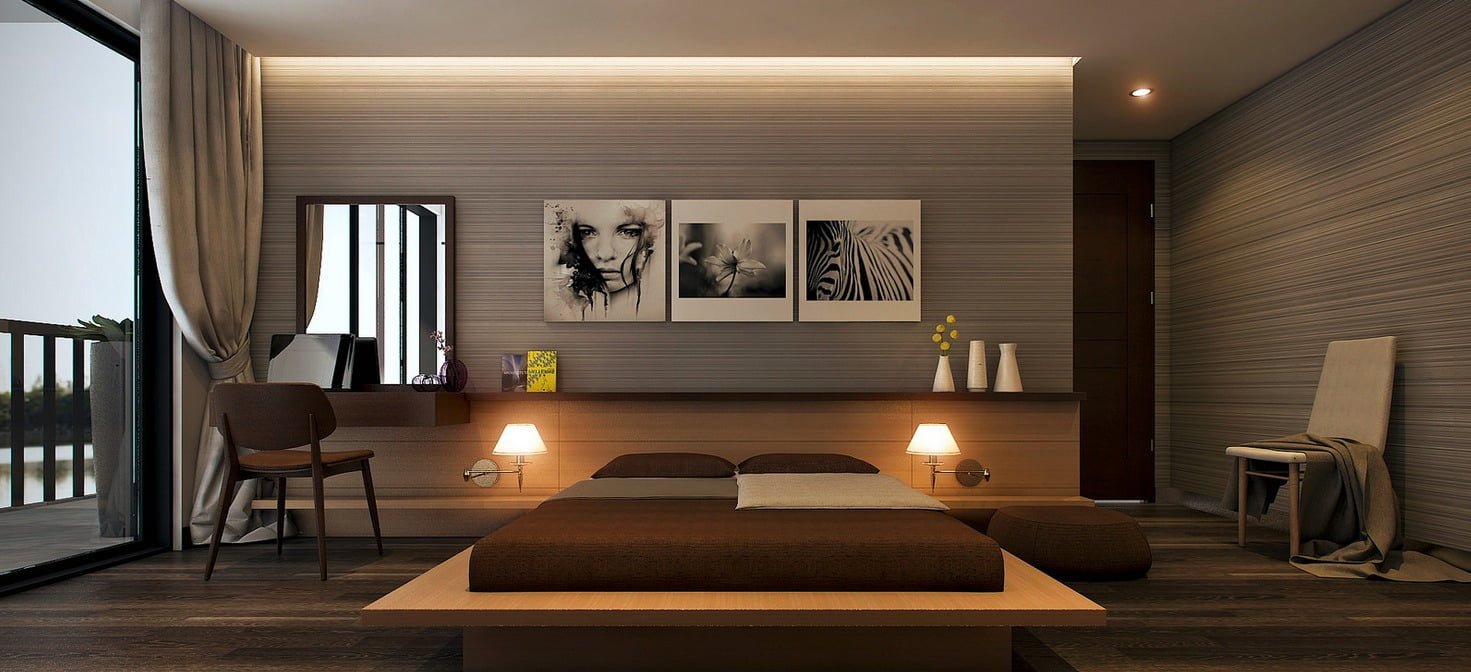 Your bedroom is a peaceful retreat at your home. Inspiring bedroom wall decor ideas can bring out your taste and personality.
Your bedroom is a peaceful retreat at your home. Inspiring bedroom wall decor ideas can bring out your taste and personality.
Wall art is a good choice for bedroom wall decor
Artwork of your own or purchased from the store are great ways to express your thoughts. A big frame at the back of your bed can draw attention. You can match your shams color to the painting's base color. Another concept is to use a different wall and put small to medium sized artwork in the form of a gallery. You may also place two medium size artwork at the back of your bed instead of a big one.
Wallpapers are great for bedroom wall decor
Your bedroom alleviates with much character and style with wallpapers. Pastel shades enhance calmness, while darker shades give a dramatic effect. Patterns such as floral or geometrical shapes bring personality to your bedroom's theme. If you are a nature lover, then go for a big leafy pattern on one of your walls to brighten up your room. For a bold impact, the stripes rule out over any other design. Floral wallpaper in neutral shades goes with most of the bedroom schemes.
Decorative mirrors in bedroom wall decor
The decorative mirrors are a convenient way to add glamour. These add dimensions and brighten up the darker corners of your room. Your room looks more prominent when you add mirrors. There are many styles and designs for every budget. Metal flowers, square pieces, or Mid-Century Modern outbursts are some mirror designs. Mirrors with decorative patterns like paintings add an extra punch to the wall.
Photo frames can add to your bedroom wall decor
You can showcase your family or loved ones with photo frames that add as bedroom wall decor. With good memories, you will surround yourself with love. Your friends or family visiting you will be glad to see your wall. You must pay attention to the color scheme and plan first, before putting on the photo frames.
Theme based photo arrangement – arrange photos of family, friends, or vacation.
Create photo ledges – with shelves, arrange your photos in shapes and color for high visual.
An assortment of photos – an assorted family photo wall with rows and columns of candid images.
Cohesive arrangement – a pattern of family, friend, or pet photos sharing the same style.
Gallery wall – an accent wall with a gallery of photos in similar frames look great as well.
Black and white theme – edit your wedding photos or family portraits in black and white to embrace a two-tone.
Heart shaped gallery – a collage of pictures into a heart shape is also an alternate approach.
Posters as bedroom wall decor
You can create serenity in your bedroom with posters.
Ideas for displaying posters
Putting on frames.
Using poster rails
Color coordinating with other bedroom elements.
Minimalistic designs.
Instead of hanging, you can rest it against the wall.
Putting a group of posters together.
Placing it at the end of your books on the shelf
Decorative lighting in bedroom wall decor
Lighting in a room often gets overlooked with choosing furniture and color scheme. In most of the cases, you get done by placing table lamps on your nightstand. Good lighting is essential is any room decoration. It is also a significant part in bedroom wall decor.
Fixture light
Fixture lights on walls or ceiling work as general ambient lighting. A prominent fixture light at the ceiling draws attention to the room. There are different sizes and shapes to suit your preference and room theme.
Identical lamps at the nightstand
Identical table lamps on nightstands balance your room's symmetry with the bed. It also serves as a reading light.
You can have hidden lights in wall panels or under the bed. If you have a dropped ceiling, then it is better to have hidden lights for a nice ambiance. These lights give more decoration to the room apart from the general lighting.
Recessed lighting
Recessed lighting makes your bedroom glamorous at an instant. It creates focal points and adds a nice layer of illumination to the environment.
Hanging Lights
These make your bedroom dreamy while taking the least space. You can find many designs and patterns for the shades of these lights. With hanging lights, you get plenty of space over your nightstands.
Fairy Lights
These are decorative lights that are in trend these days to make your room special. You can put them as wall decor for a special occasion.
Use of shelves in bedroom wall decor
Decorative shelves fill up the blank spaces in your bedroom wall. They come in all shapes, colors, and sizes. You can create a distinctive look with floating shelves. It is easier to use shelves for decorating purposes in tight spaces.
Floating Shelves and Picture Ledges
These are great to display photos and art. You can place a few books along with pictures as well.
Functional Shelves and Organizers
The blank wall not only fills up by functional shelves but also come handy to keep your things organized. These shelves have drawers and hooks to keep your personal belongings.
Wall Shelf Sets
It is effortless to set up a wall shelf set, and it comes with two shelves or more. You can find many designs and colors that go with your preference. You can place about anything on these based on your design scheme.
Using texture in bedroom wall decor
We usually notice the color of the walls when we enter a room, but a wall texture gives a great impression. Using texture create a depth effect and make your wall stand out. Without taking any space, this form of wall decor is a favorable decision.
Wall Tiles
One of your walls can have tiles on it with a texture that keeps your wall from looking empty and dull.
Paint with texture effect
You can paint your walls with texture paints that add depth to your walls. Bontile color is the most common paint texture. You can also use a flat plaster paddle to create a bump pattern instead of roller or brush.
Marble or Wood
Marble or wood slabs on one of your walls or a part of it make your room luxurious and stand out.
Hanging textiles to your bedroom walls
Another approach to bedroom wall decor is a tapestry. From weavings to vintage fabrics, all types of textile art are great for decoration. When hung behind your bed, it serves as a headboard that gives color, pattern, and texture to your wall.
Different methods for placing your hanging textiles:
With pushpins – works only with a dense weave.
Stretch over frames and staple
With self-adhesive velcro tape to attach to your wall
Attach your tapestry to a baseboard – this is for large and heavy textile that needs support.
Hanging on a rod
Framing like a poster
Using as a canopy over your bed
Plants wall decor
House plants are another technique for interior decoration. For your bedroom wall decor, you can mount plants on floating shelves. Hanging potter with shelves are great to hang plants against your wall. You can place your plants over sideboards or other furniture to fill up the wall behind it.
Conclusion
A bedroom that looks complete is a place for retreat. When decorating your room, the walls play a vital role. With proper wall decor, your bedroom has to look appealing, pleasant, and not dull. Wall art, wallpaper, mirrors, lighting, floating shelves, tapestry, and houseplants are different approaches.