Bedroom Accessories that add glamour to your bedroom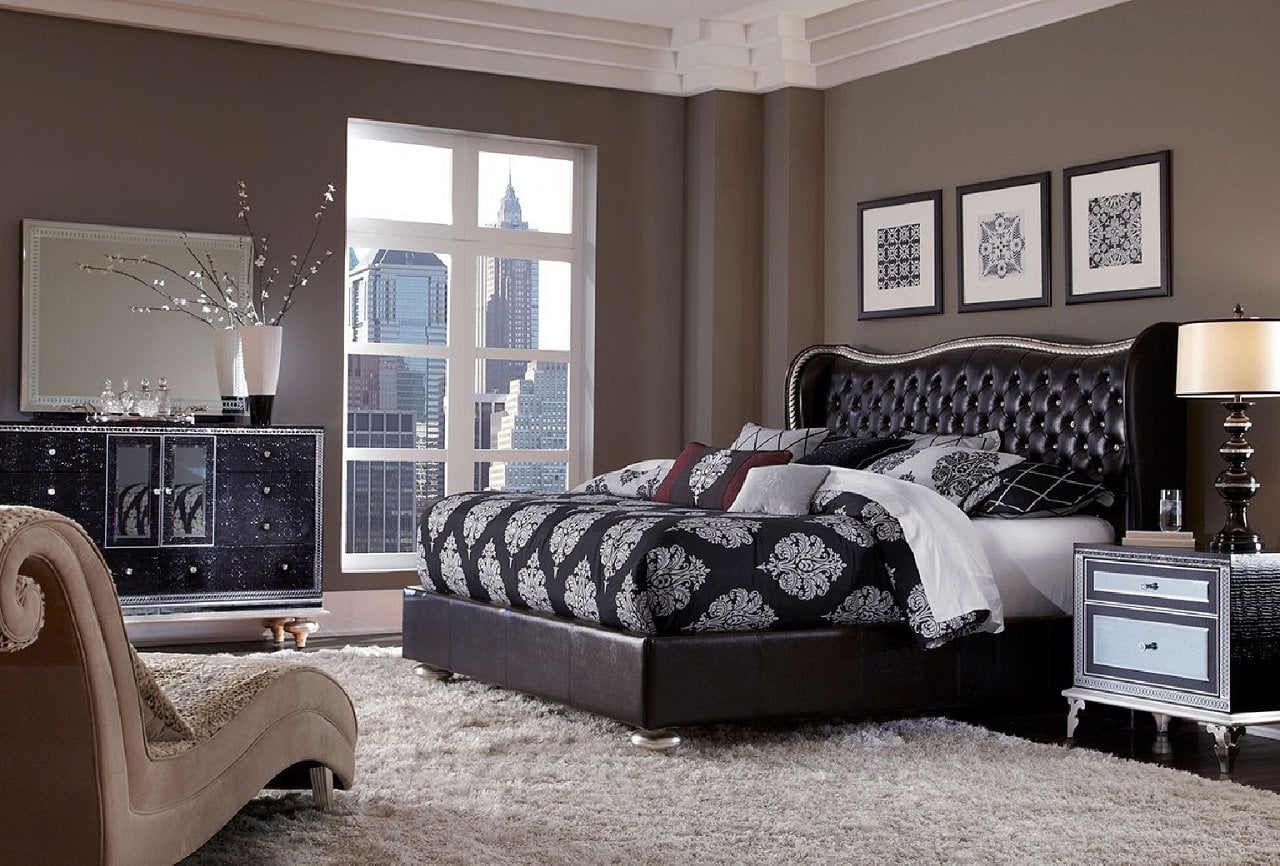 The basic furniture in a bedroom fulfills your needs. Adding a few bedroom accessories make it cozy and pretty.
The basic furniture in a bedroom fulfills your needs. Adding a few bedroom accessories make it cozy and pretty.
Bedroom accessories to consider before decorating your bedroom
Your bedroom is a place where you find sanity. There are certain factors to consider to decorate a beautiful room.
Subtle color scheme
Your bedroom is a place to relax. No matter how colorful you prefer it to be, the color shades must be subtle. Calm and serene colors are soft shades of blue and green. Coziness and comfort with jewel-toned hues like toasty brown, deep pomegranate or topaz. Use toned down shades of your favorite color to avoid bold colors.
Attentive to the ceiling
The ceiling is the fifth wall to your bedroom, and it must not be blank. You can add a subtle pattern or soft color that is a lighter shade of your walls. Other alternatives are to use wallpapers, structural beams, or decorative paint. A chandelier of crystal or shades can brighten up your ceiling and add a nice ambiance.
Go simple
Space between your furniture makes it easy to move around the room. There should be at least 3 feet gaps between the side of your bed and the wall or large furniture. If there are small furnitures like a table or dresser, it requires a 2 feet gap. The closet should be near your bathroom so that you do not have to walk around your bed. Only the necessary furniture such as a bed, nightstand, dresser, and a chair should be in your room. Only flowers, candles, a large artwork, and family photos are enough as accessories.
Ideal furniture size for bedroom
Buy furniture based on your room's floor plan. A large headboard applies to bedrooms with high ceiling. A small room must not have large bed or dresser. For a big space, furniture should fit in. With ample spaces, there can be an ottoman or chair at the end of the bed. A small amount of furniture looks incomplete in a large bedroom.
Ample storage space
Clear clutter around your bedroom and store away. Drawers of your nightstand or dresser can keep things from lying around. The foot of your bed can have a trunk or ottoman with storage, to keep your extra sheets or pillows. For books and accessories, a headboard with shelving units allows proper storage. Closet space is best optimized if it is custom made. Bed skirt can hide shallow boxes underneath your bed.
Include a personal space
There can be a lounging area in your room where you can sit by yourself. It can be a comfortable chair at the corner of your bedroom or a coffee table set. If you have space, you can have a sitting area by the window to look at the view.
Using luxurious bedroom elements
For your bedroom to look luxurious, opt out for sheets that are on the high-end range. Professional pressing gives them a fresh look like 5-star hotels. Use accessories such as silk drapes around the room and a plush rug for your floor.
Well covered windows
Draped windows add color, pattern, texture, and softness of your bedroom. The window and its view feature by lovely curtains. Sheers pair with opaque ones so that sheers give light and airy during the day. Thick curtains stretch at night for privacy and darkness. Drapery lining provides complete darkness for heavy curtains.
Layered lighting
Lighting inside the room is in layers. The entire bedroom lits up by ambient light. Small lamps in the room help in reading and focusing on small elements. The wall illuminates with accent light for decoration. For all these types of lights, it requires to have dimmer and separate switches for control.
Dedicated to reading, sleeping, and romance
Your bedroom is a relaxing place and a getaway from your busy schedule. The interior of the room has to be relaxing and dedicated to reading, sleeping, and romance. It is better not to have electronic devices or exercise machines in your bedrooms.
Essential Bedroom Accessories
Without essential accessories, your bedroom is not complete. The bed, dresser, and nightstand are the necessary furniture. There are other accessories you need that completes the room.
Throw blanket
A throw blanket gives a pop of color in your bedroom. It stays folded at the foot of your bed. You can wrap it around yourself while watching tv or reading in your sitting area. It is also great to cover your feet on chilly nights.
Throw pillows
There should not be more than three throw pillow on your bed. The color or pattern must contrast with your bed color while matching the other colors in your room.
Shams
Shams are regular sized decorative pillows placed along the headboard. For perfection, you need to use four of them. Two shams at the headboard of European size with two standard size shams in front of them. The color of these pillows can either match with your duvet or create a contrast.
Lighting that creates an impact
At least one lighting in your room must create an impact on the look of your bedroom. It can be the ceiling light such as a chandelier, a floor lamp with a sleek design, or focus light on your wall artwork. A lovely table lamp, focusing on the objects on your nightstand, can also be a source of impact.
Large artwork
A single large artwork about half the size of your bed gives a strong accent to your room. It depends on your taste what you want to hang there. It can be photos, paintings, decorative mirrors, tapestries, quilts, or wall decals.
Rugs
Even though your floor is wall-to-wall carpeted, you need to have layered rugs around your bed. Based on your bed size, the carpet can be under your bed, or you can use smaller ones for the sides or at the foot of the bed.
Something special
Your bedroom is your personal space, and your guests will not enter unless necessary. So feel free to hang something particular on your wall that makes you feel good. It can be photos of someone or a specific place or your piece of art.
Bedroom accessories to make your room glamourous
Use of Headboards
A double height, neutral shade of headboard will add glamour to your bedroom. You can add velvet fabric to have a luxurious look.
Flower Decorations
It is lovely to decorate with fresh flowers, but you can always opt for artificial flowers. Fresh flowers are expensive and inconvenient for decorations. Artificial flowers are a great way to brighten up your bedroom.
Scented Candles
Soft lighting and mild fragrance give a soothing atmosphere to your bedroom. For candles, you can select the ones with monochromatic packaging.
Decorative mirrors
Decorative mirrors make your bedroom look spacious and lighted. It also decorates the walls without having to use wallpapers.
Bedroom Rugs
Texture gives you luxury under your feet when you have a plush rug or a smooth sheepskin throw.
Symmetrical styling
Symmetrical styling can transform your bedroom from simple to glamorous. Your bed should have two nightstands with two lamp shades. Creating symmetry, it should have four shams, two throw pillows, and a throw blanket in the middle.
Wall decor
Decorate your walls with light, neutral colors. Artwork adds personality to the room rather than a plain blank wall.
Luxury Linens
Most of the money spent on your bedroom should be on the bed linens. Luxury linens give you ultimate tranquility and the desire to be in bed during weekends.
How to make your bedroom cozy?
With the right bedroom accessories, you can make your room look cozy.
White color scheme
You can achieve the most comfortable looking bed with white color. Add a chunky white knit throw for its most coziness.
Using natural texture
In a neutral color scheme, feel free to add natural texture like alpaca for pillows or throws.
Pastel shades for walls and accessories
Soft shades of blue and pink are excellent choices for walls or to add a pop of color.
Forest green
A forest green wall with patterned textiles on the bed is another idea for a cozy bedroom.
Canopy beds
Canopy beds with white drapes look nice and cozy. You can also choose sheer panels at the four sides of your bed, for a modern look.
Calm color shades
You do not have to stick to the white color to make your room light and airy. Subtle blue is also the right choice for the mild effect.
Soft textures
A velvet headboard or a faux blanket gives a soft texture to your bed, and you feel cozy at once.
Hanging swing at the corner
If your room has an awkward corner, feel free to hang a swing to make it a favorite spot for reading or resting.
Wood panels
If you like a treehouse, you can make your bedroom walls in wood panels.
Curtains beyond windows
Curtains are not limited to windows only; you can use long curtains for walls or frame your bookshelf.
The extra space in your room
You can use up that extra space in your room with various bedroom accessories.
Sideboards under small windows
When you have an unusual shaped window that is not a big rectangle, you can use the space to place a sideboard. The sideboard will make the window area look balanced and provide you with storage space.
Extra seating at the foot of the bed
The all-time classic seats at the foot of the bed is a practical design. It is for both seating and storage space for bed linen if you use an ottoman.
Room divider for a big bedroom
A shelving unit can act as a divider in a big bedroom, dividing the space into two separate groups. The shelves double up the storage space in your room as well.
Mini window seats
Spaces under windows can have seats to sit and watch the view outside. It utilizes the area under the window and adds a beautiful look.
Conclusion
To add glamour to your room with bedroom accessories, you must brief on the room first. Take considerations on the color scheme, furniture size, storage spaces, etc. You must make a list of must-have accessories and the ones that make your room luxurious. Follow the ideas that help you to make your room cozy. Your bedroom is your restful haven, and so go the extra mile for your level of satisfaction.