Crib Sheets Buying Tips and Guidelines for a Safe Nursery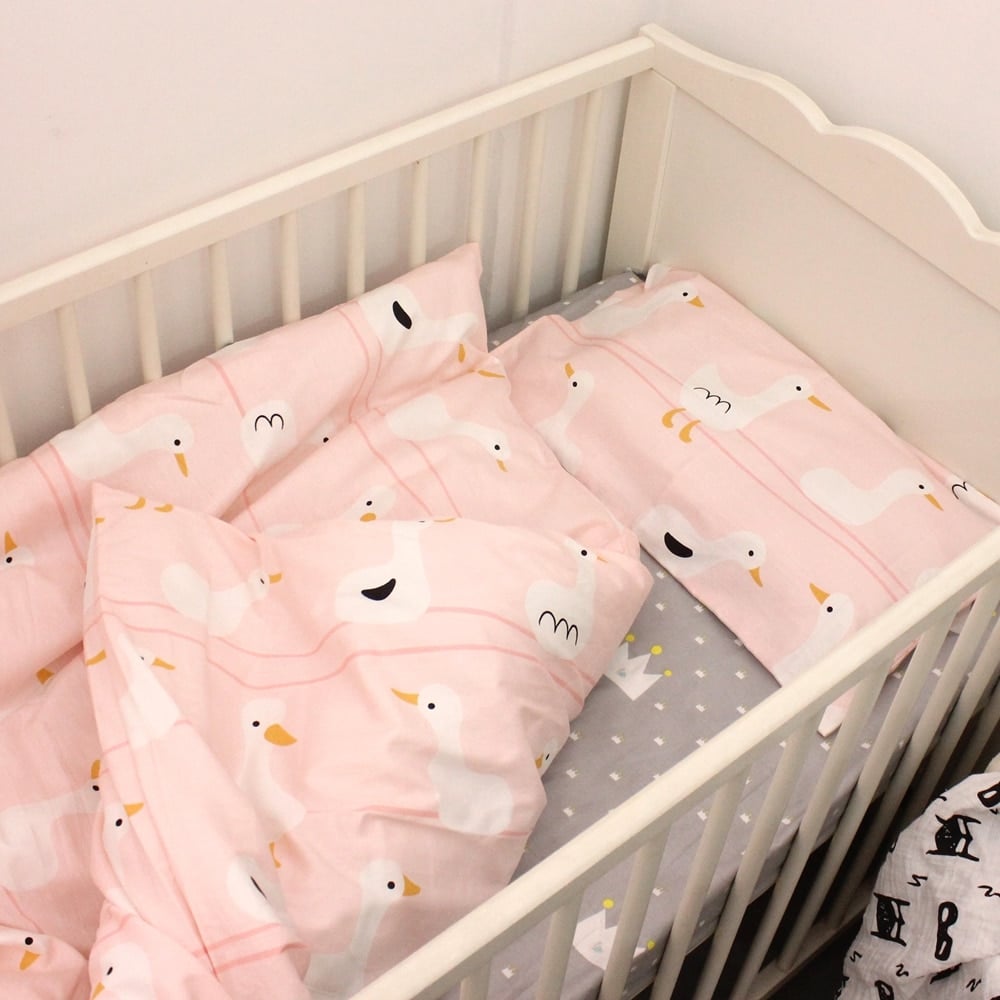 Babies sleep at least 18 hours a day and spend most of the time at the crib. Once you buy the crib mattress, the next thing to consider is the crib sheets. Before you go shopping, use these guidelines for a better understanding.
Babies sleep at least 18 hours a day and spend most of the time at the crib. Once you buy the crib mattress, the next thing to consider is the crib sheets. Before you go for shopping, use these guidelines for a better understanding.
Fabric for crib sheets
The sheet has to be soft and breathable while it must hold up many washes as it is for cribs. There are four main types of crib sheet fabric – cotton, polyester, bamboo, and flannel.
Cotton
Cotton is the most popular and breathable fabric for crib sheets. It is durable and holds up much washing. You can find organic cotton that has fewer chemicals if your child is allergic. To keep up the tidy look, it requires ironing after wash.
Polyester
Polyester is a super soft fabric for bedsheets. Satin, microfiber, and chenille sheets are all polyester. They do not wrinkle after wash and durable with many times of washings. This fabric is not breathable and better for winter uses.
Bamboo
Parents who are environment conscious prefer bamboo fabric for sheets. They are organic and hypoallergenic. Crib sheets in bamboo are soft with many styles and color options. It is not as durable as cotton or polyester.
Flannel
Flannel fabric is lightweight, soft, and durable. It is for winter use as the material gets hot. You can find flannel in cotton or polyester.
Crib Sheets Sizes
There are two sizes for crib sheets based on the crib mattress sizes available.
Standard size is 52 inches long and 28 inches wide. It fits in all standard mattresses that convert to a toddler bed when your child grows up.
The mini size is 38 inches long and 24 inches wide, and it will not fit on standard cribs. The dimension differs among the depth range, which is the height of the mini mattress. Usually, mini cribs are in use for traveling as it is lightweight and portable. They are cheaper than standard cribs as well.
Crib Sheets Styles
Based on your nursery theme, you select your crib sheets. There are a few styles to consider.
Girl – for your baby girl, you can choose pink, princess themes.
Boy – boys theme are usually in blue and have cars or boy sports designs.
Neutral – you will find colors and designs that go for both girls and boys.
Animals – there are sheets in animal characters or simple animal cartoon designs.
Nature – you will find a range of choices in a nature theme that can be floral or leaves patterns.
Nautical – if you like boats and the sea, then you can go with nautical themes. It is suitable for a boy's nursery.
Patterns/Shapes – you will find sheets with geometrical patterns or shapes in girl and boy colors.
How frequently should you change your sheets?
Every night when we sleep, we sweat. It varies from person to person how much we sweat, but we all do. With sweat, soil also comes out of our bodies. Bedsheets under a microscope will find genital fluids, urine, and feces as well. So the dust mites, ants, fungus, bed bugs, and molds build upon our sheets. We recommend washing your sheets every two weeks. People who sweat more than usual should wash their linen once a week.
For babies, bedsheets need washes twice every week. Crib sheets can get dirty as baby throws up, spills food or soil the linen. Bacteria can build up, and frequent washes will keep your child safe and hygienic.
Crib Safety Tips
It is a must to follow the crib safety measures to avoid any hazards. The crib is the safest place for your baby. So you must make sure that it is free from any kinds of risks for your little one.
Put away mobile once your baby can push up on hands and knees.
Gaps between slats must be narrow so that soda can do not fit. If a soda can fits, it means your baby's head can get stuck.
Soft objects like pillows, blankets, bumpers, and toys must not leave unattended. These can pose suffocation, strangulation, or choking hazards.
A well-fitted mattress ensures no gaps between the crib and the bed.
The mattress should be firm and not too soft for the baby.
Babies must lie on their back while sleeping and unattended.
No loose items must hang near the crib corners.
Make sure the crib is JPMA certified.
Always buy a new crib and check for any loose screws at regular intervals.
Conclusion
It is a blissful time with your baby in the early years. There is much excitement with the new member of your family. Shopping for nursery items, planning, and decorating is a lot of work. The fabric to choose for the crib sheet, the color, and the style are a few things to consider. Wash your sheets regularly, and keep your baby safe with crib safety measures. Keep at least three linens for the crib as it requires much changing.